Search free Pennsylvania criminal records and arrest records in every PA county through official channels today.
This information includes Pennsylvania arrest records, criminal histories, background check reports, arrest warrants, probation and parole information, and prisoner records — all of which are readily accessible once you know where to look, and what to look for.
Pennsylvania Records Page provides everything necessary to learn about someone's past in a quick and efficient manner — all you have to do is follow the guide below to start the search.
Are Criminal Records & Arrest Records Available to the Public in Pennsylvania?
Both Pennsylvania arrest records and criminal history records are open to the public in Pennsylvania, in accordance with the state's Right to Know Law and the federal Freedom of Information Act–both of which guarantee public access to all federal documents and proceedings unless legally withheld.1,2
However, the process for finding an arrest record differs from the process of getting copies of a criminal record and the costs and record custodians vary as well. On top of that, juvenile records are usually automatically sealed from public view, while adult offenders have to petition the court for their criminal record to be withheld.
Searchers and concerned parties can rest assured that the directions offered in this comprehensive guide can streamline the process and explain which government agencies or record custodians to contact for each type of record. For an overview of criminal and arrest information in the state, as well as how to find marriage, divorce, birth, death, court records, and more, our Pennsylvania public records search guide may be better suited.
What Is Included on Criminal Records vs Arrest Records Searches in Pennsylvania?
An arrest record–also called an arrest report–gives information about a particular incident or detainment. It is specified to a certain arrest, while Pennsylvania criminal records are more comprehensive as they cover all of an individual's criminal history, arrests, and cases from the past and present as opposed to just one of these events.
In Pennsylvania, an Arrest Record Includes:
Arresting Agency
Arrest Details
Booking Date
Current Facility
Date of Birth
Full Name
Mugshot
Race/Ethnicity
Sex
Criminal Records in Pennsylvania Consist Of:
Current Facility
Date of Birth
Fingerprints
Full Name & All Known Aliases
Mugshot
Pending Cases
Prior Arrests
Prior Conviction & Case Details
Race/Ethnicity
Sex
How

 

To

 

Find 

Pennsylvania Arrest Records or

Recent

 

Arrests for Free: View Arrest Logs, Mugshots

& 

Why

 

Someone

 

I

s 

in

 

Jail

For searchers hoping to find recent arrests in Pennsylvania, determining the general location, time, and date of the arrest can help narrow down the search. City and county jails are the main correctional facilities and arrestees can be found by contacting the local police department, sheriff's office, or even the jail for inquiries about arrest records or detainees.

Below, readers can learn the best ways to find out if someone was arrested in Pennsylvania, where they are being held, and even view mugshots if the arresting agency offers an online search tool or inmate roster.
Search Arrests Through the County Sheriff's Offices of Pennsylvania
Individuals seeking arrest reports in Pennsylvania can often find out if someone is in jail by perusing the website of the county sheriff's office where the arrest occurred. While some cities and counties offer inmate search resources and daily arrests or booking logs, not all regions have an online arrestee search feature.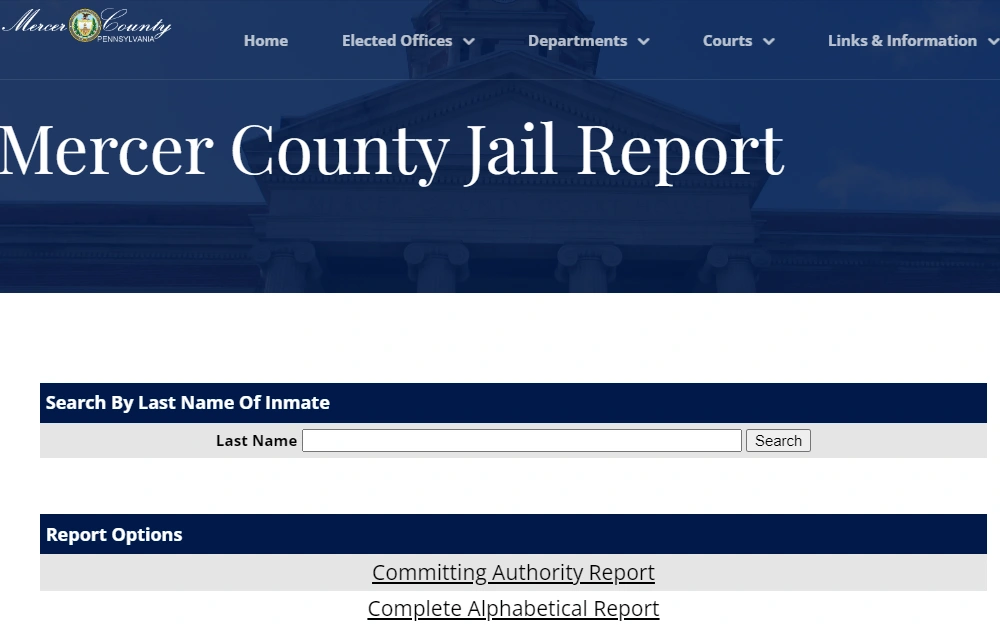 Each county's search tool or online directory of inmates can be found linked in the table below if available. In counties where Pennsylvania arrest records cannot be accessed online, the sheriff office's contact page is linked instead. All county sheriff phone numbers are available as well, so that searchers can easily call the applicable office and ask about certain arrests or inmates.
* indicates that this county does not offer an online inmate search tool; the county sheriff's contact page is linked instead
Concerned friends or family members having trouble accessing arrest records can contact a licensed bail bondsman for assistance. Aside from being able to help find current arrests in county jails throughout Pennsylvania, a bondsman can navigate the courts and even the process of bail with ease and familiarity.
How To Contact or Get Ahold of an Someone in a Pennsylvania Jail & Post Their Bail
Individuals hoping to contact inmates in county jails throughout Pennsylvania are advised to reach out to the jail directly, as each facility sets its own visiting days, hours and communication policies. For example, Union County Jail uses a different inmate phone system than Allegheny County does, so it's best to check with the jail office directly for accurate information.
To post bail on behalf of an inmate who's in jail, payments should be made to the jail where the subject is currently being held.
If the amount of bail set is not shown on the county jail or sheriff's office website or arrest records, interested parties can call or visit the local sheriff's department or applicable jail to ask about the process or amount to pay for bail. Bail payment options include cash bail (paying the full amount of bail set) or recruiting the help of a bail bondsman and paying them at least 10% of the total bail as a nonrefundable fee.
Posting bail is a measure of assurance that the subject will show up at their court hearings, so any bail paid (aside from the nonrefundable bondsman fee) will be reimbursed upon the subject's presence at the hearing in question.
How To Access Pennsylvania Criminal Records Through Local & State Agencies
In Pennsylvania, criminal records can be obtained through several methods including through certain courts, clerks of the court, or the state police. Even background check services can provide certain insight into a subject's criminal history if all else fails.
Most states offer criminal records through county courts, but since Pennsylvania's court system operates by judicial district rather than strictly county boundaries, the following guide will walk readers through the best way to get copies of criminal records through this avenue as well as covering other agencies or services that serve as record custodians.
Find Criminal Records by Through Pennsylvania County Clerks of Courts or Courts of Common Pleas
In Pennsylvania, an individual's criminal record or "rap sheet" can be accessed either through the applicable clerk of courts or through the trial courts in Pennsylvania which are called the "Courts of Common Pleas."
One such court represents each of the 60 judicial districts in the state. Most of these judicial districts align with the counties, but–with 67 counties and just 60 districts–seven judicial districts represent not one but two counties.
To start the search, see the location and contact information for each Pennsylvania Clerks of Courts who are responsible for maintaining all criminal case records for their county's Court of Common Pleas.3
To find or obtain criminal records in any of these counties or districts, individuals can also access Public Records through Pennsylvania's Unified Judicial System.4
More specifically, to find court details, phone numbers, and addresses, searchers can do the following:
On the Unified Judicial System of Pennsylvania's Courts of Common Pleas webpage, scroll down to the "Find a Court" dropdown menu5
Select the applicable county from the dropdown menu and then click "View Details" for that county on the map image
-For example, users trying to view details of the Philadelphia County Courts of Common Pleas would click "Philadelphia" on the menu, followed by "View Details" below
Users will be brought to the chosen county's Court of Common Pleas' webpage with the courthouse address, phone number, and hours of operation listed.
-Following the Philadelphia County example, searchers will be led to the Philadelphia Court of Common Pleas webpage, which lists the courthouse address as Broad and Market Streets, Philadelphia, PA 19107, phone number as 215-686-6670 and hours of Monday-Friday 9am-5pm.6
Individuals can call or visit the courthouse or clerk of court to ask about specific records; a small fee may be required for copies.
Search Criminal Records Through the Pennsylvania State Police (PSP)
Another public records repository for accessing criminal records is the Pennsylvania State Police (PSP); requests to the PSP can be made either online or by mail but there are some stipulations as to what information can be accessed and who can view it.7
The process and request methods are explained below with the costs associated with each.
Requesters can utilize the Pennsylvania Access To Criminal History (PATCH)–operated by the Pennsylvania State Police–to get criminal history record checks.8 Any member of the public may go through PATCH to access online Pennsylvania criminal records.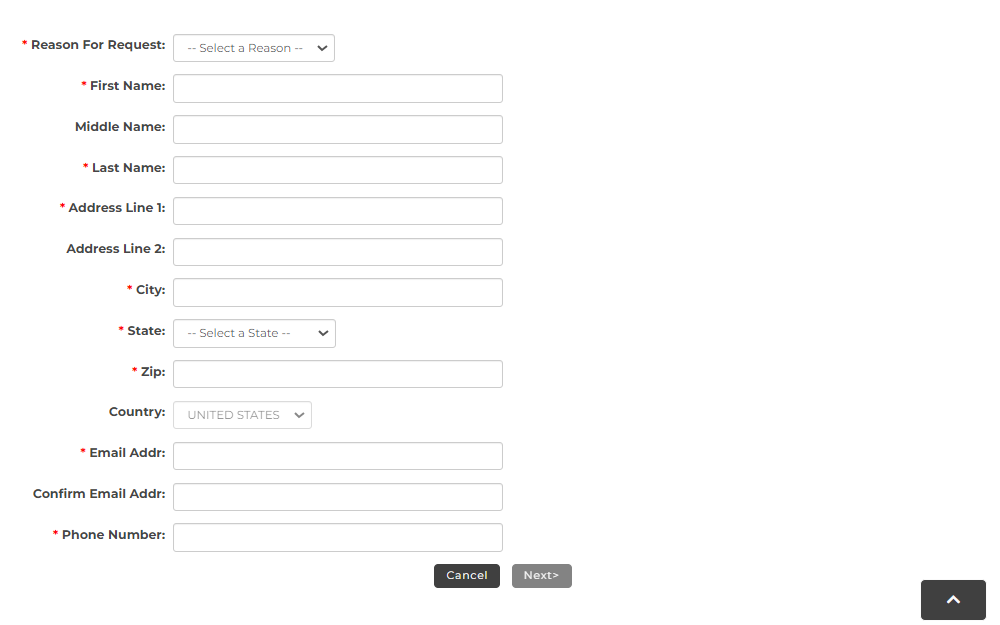 The fee per record request is $22. Credit card payments are made directly on the PATCH website and can be made by American Express, Discover, Mastercard, or Visa. Records will be dispersed by email. A PATCH login can be created to check the status of a record (saved on the PATCH website for one year), but both registered and unregistered users can conduct searches.
While PATCH is a convenient option for many searchers trying to check if someone has a criminal record, this option is not sufficient or feasible for all users; for example, requesters who need their criminal history record check notarized must mail their request form in or those looking for Pennsylvania arrest records would be better off checking with their local law enforcement agency for recent arrests, or court documents for prior arrests.
Individuals needing or wanting to do the mail in option must print and fill out PSP Criminal History Request Form (SP 4-164), then place the form into in envelope along with the $22 fee per record check payable by money order to the Commonwealth of Pennsylvania and mail the envelope to:9
Pennsylvania State Police Central Repository – RCPU
1800 Elmerton Avenue
Harrisburg, PA 17110-9758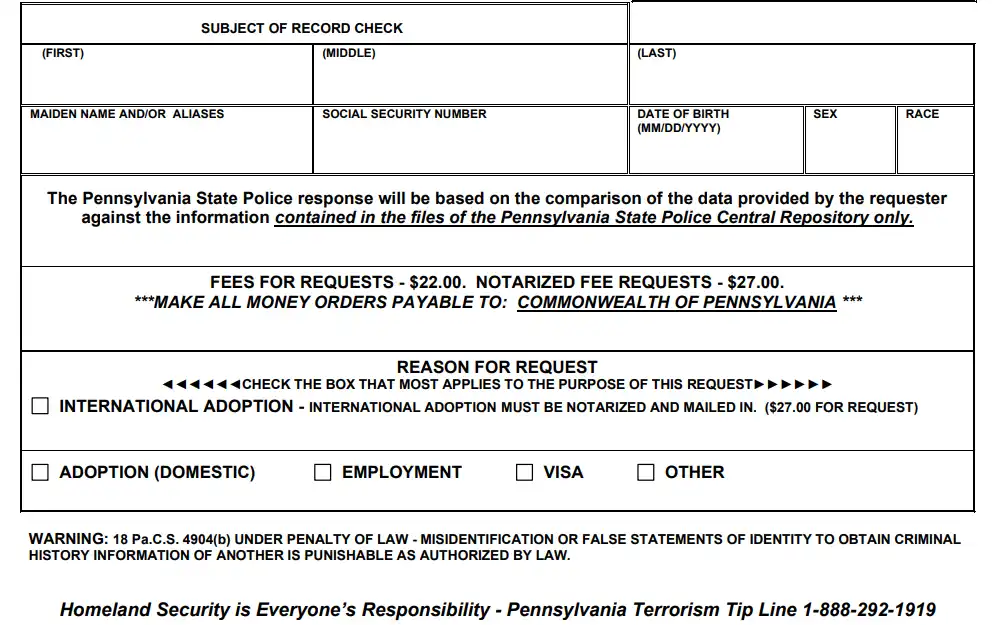 The third and final option for obtaining criminal records via the Pennsylvania State Police is by filling out a Request for Individual Access & Review (Form SP 4-170).10 This is a request for a criminal record search of those held by the PSP repository alone; any records hosted by other agencies will not show up on these criminal history checks.
The report, if granted, will give the subject's comprehensive criminal history information hosted by the PSP, including non-conviction details. This option is only available to the subject of the search themselves or their legal guardian (in which case the guardian or representative must present a notarized affidavit of legal representation).
To obtain an Individual Access and Review, requesters must submit Form SP 4-170 as well as a money order written for $20.00 made out to the Commonwealth of Pennsylvania, and one valid form of identification.10 Any submitted form of identification must include the subject's current address. Each of these documents should be sent to the Pennsylvania State Police Central Repository at the address listed above.
Types of ID or proof of residency documents accepted are:
Deed
Department of Corrections Identification Card
Homeowner's Insurance Policy
Mortgage
Passport
Residential Lease or Rental Agreement
State Issued Driver's License or Photo I.D.
U.S. Military Identification
Utility Bill (Less than 60 days old)
Once reviewed, the results of the Individual Access and Review will be one of two options.
No Record–Users can obtain a certified form stating that they have no PSP criminal record that can be saved or printed.
Record–Indicates that the subject does have a record with the PSP; after double clicking the given control number on the response, requesters can obtain and print certified criminal record form.
Requesters who need assistance with any forms or the process of accessing their criminal history record through the PSP may call the PATCH customer service phone number at 888-783-7972.
For those who are looking for general crime information, the PSP provides criminal record data that depicts various statistics in a digestible format.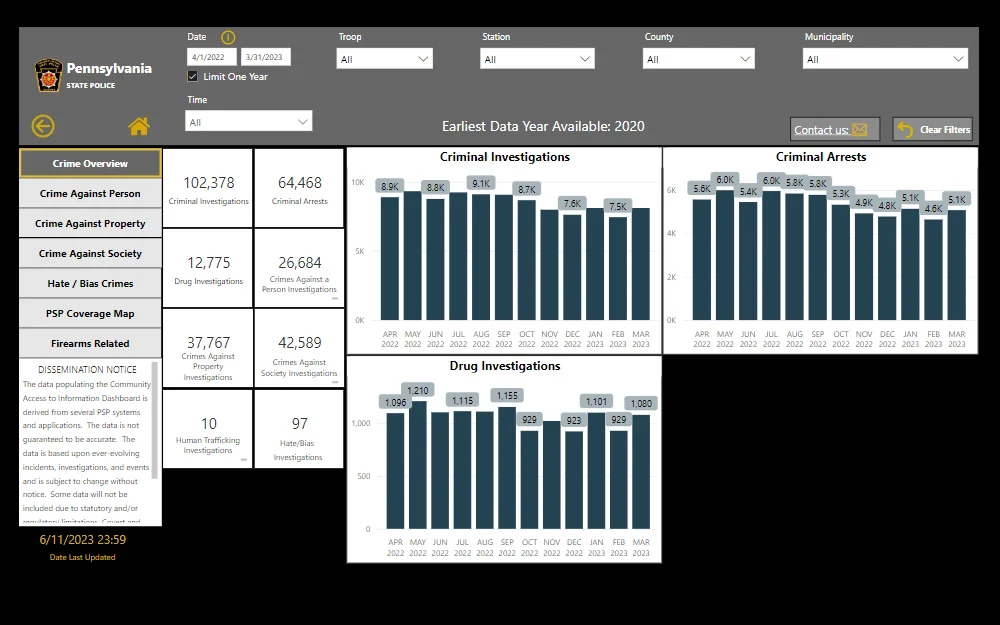 Get Federal Criminal Records Through PACER
At the federal level, criminal case information can be accessed online through the Public Access to Court Electronic Records (PACER) website.11 This service allows searchers to review docket information from appellate, bankruptcy, and district courts, either by searching a specific court or–if the court is unknown–searching the national index.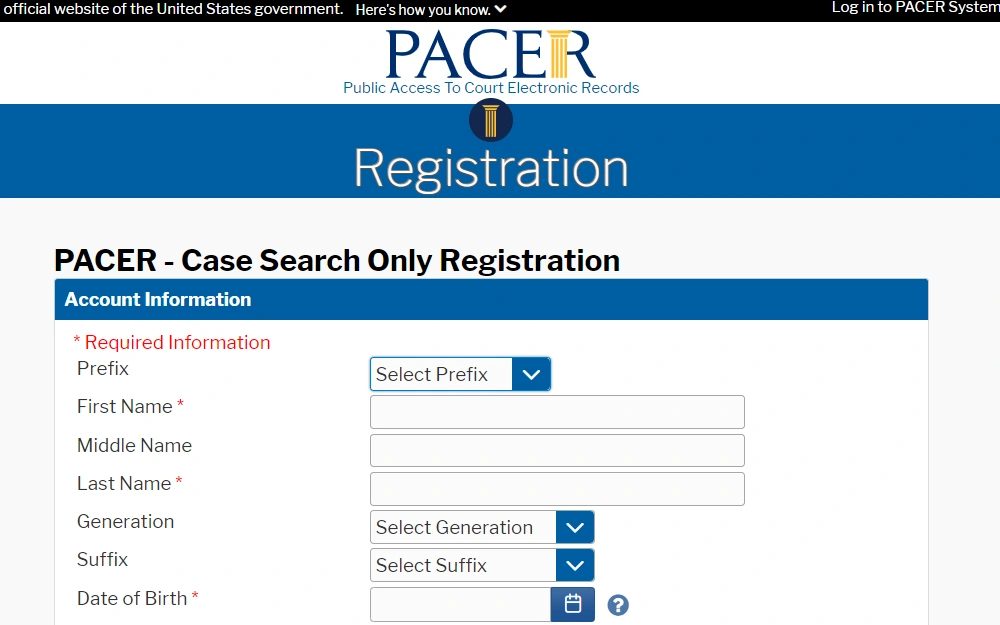 This database is updated daily and requires an account to be created before searching. While the account itself is free, PACER users must pay a nominal fee of $0.10 per page of case information with a maximum charge of $3.00 (30 pages) per document in most cases. The $3.00 limit does not apply to federal court transcripts, name-based searches of the database, or documents not specific to one particular case.
For searchers who don't use the PACER database often, thankfully the access fees are waived completely if the cost per quarter does not exceed $30. Case records can also be viewed by members of the public at public access terminals at the courthouse or clerk of court's office where the case was heard.
How To Obtain Copies of Criminal Records in Pennsylvania
In Pennsylvania, copies of criminal records can be accessed through each judicial district's Court of Common Pleas or through the contact information seen on the court of clerks list for every county, often for just a minor cost for copies of records or criminal case documents.5,3 Residents can also request a criminal record through the Pennsylvania State Police for $20-$27 depending on the type of record desired and whether it needs to be notarized or not.7
Criminal records may be obtained through local police departments, sheriff's offices, or even third party services that can search many record custodians efficiently and for a low cost.
How To Determine Who Is on Probation or Parole in Pennsylvania
Individuals attempting to find a subject on probation or parole in Pennsylvania may benefit from knowing that probation usually refers to the release from jail, while parole is generally the release from prison. Though there are not usually probation search tools on county sheriff websites, Pennsylvania does have a resource for finding parolees.
To illustrate just how many people are on probation and parole, the following image shows the combined total of probationers and parolees in Pennsylvania, along with their ethnicities. Furthermore, these totals are also compared to the number of individuals on community supervision (including probation and parole) in other states across the United States.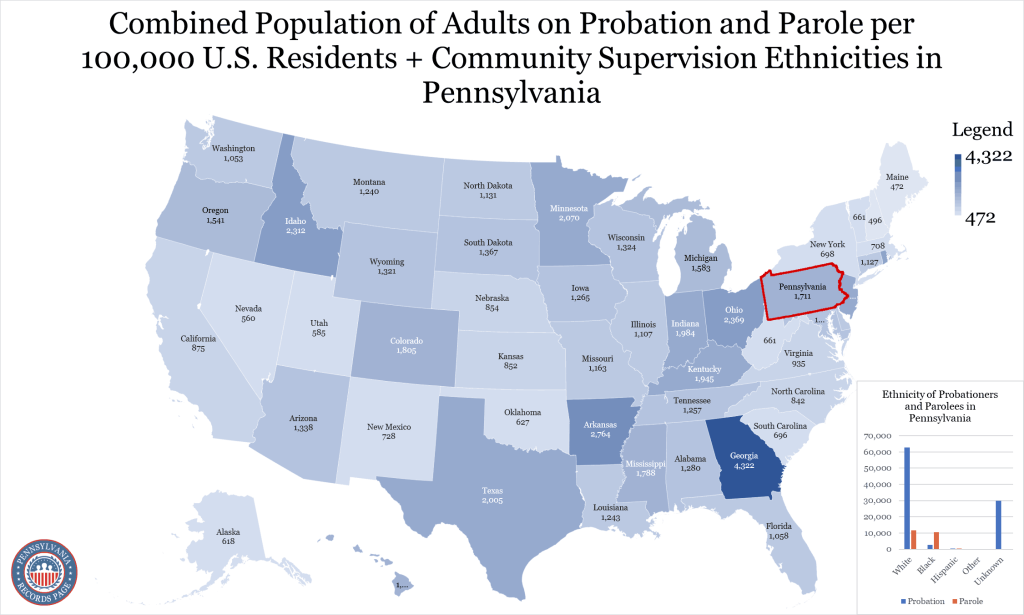 The Pennsylvania Department of Corrections (DOC) operates the state prisons and provides members of the public with information on inmates and parolees under jurisdiction of the DOC.12 Their online search tool–the Pennsylvania DOC Inmate & Parolee Locator–is an easy to use parolee database that is updated daily.13 Users should be sure to select "Parolee Locator" instead of "Inmate Locator" since the database can be used for either search type.
Parolees can be found by name, race/ethnicity, DOC parole number, or date of birth. Parolee profiles will include the individual's parole number, name, mugshot, demographic details, and release date.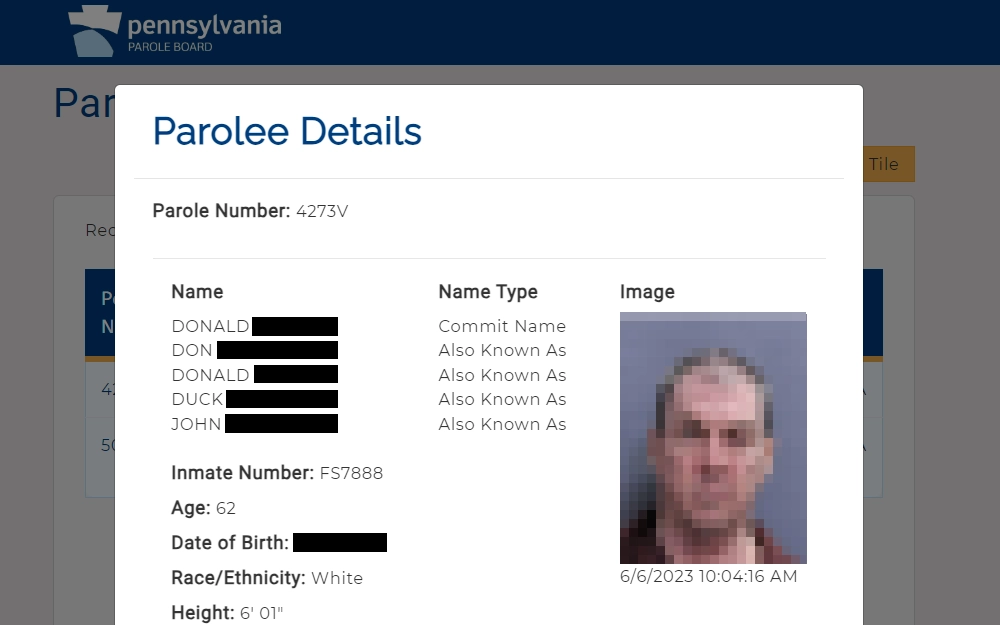 The Pennsylvania Parole Board maintains authority over sentences two years or more that are being served in state facilities, while individuals serving sentences of less than two years may be granted parole at the county level instead.14
Without a similar search tool at the county level, searchers looking for information about probation or release dates should reach out to the jail where the subject was held. County Probation and Parole Offices can also be contacted for general information or inquiries, but usually these offices do not disclose probation or parole subject information to members of the public.15
Regarding parole from federal prisons, interested parties could utilize the Federal Bureau of Prisons' (BOP) inmate locator tool, which may provide historical information pertaining to parole when an individual is searched by name or BOP number.16 However, showing up in the BOP repository does not necessarily mean the subject is currently on parole.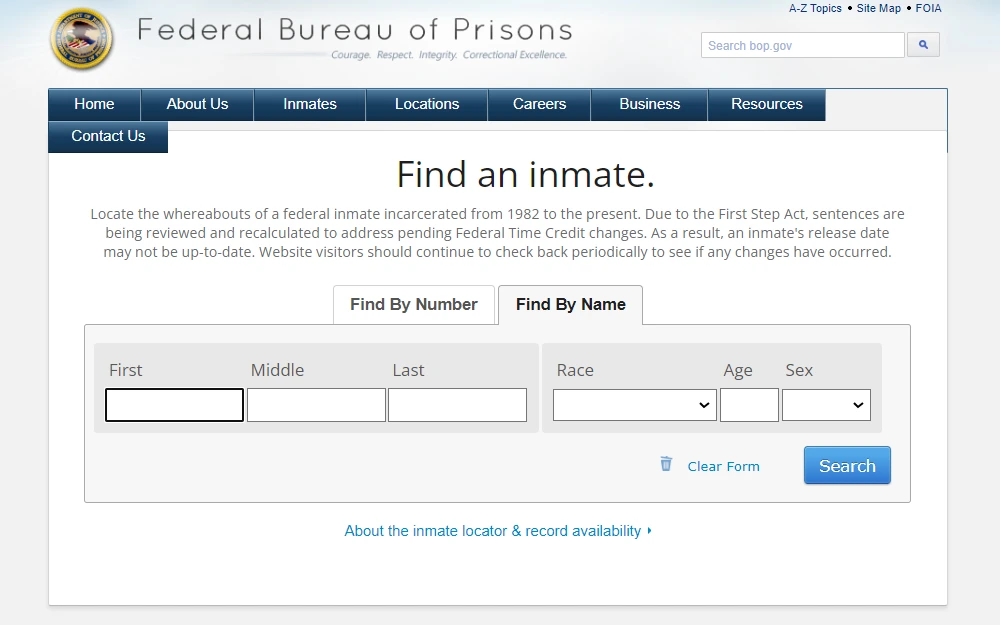 How To Seal or Expunge a Criminal Record in PA (Pennsylvania)
Pennsylvania allows for sealing or expungement of criminal records as long as certain conditions or waiting periods have been met.
The state of Pennsylvania passed the Clean Slate Law in 2018 under Act 56 which, in most cases, allows for the automatic sealing of non-convictions, minor offenses that happened over 10 years prior, and convictions for misdemeanors of the second and third degree after 10 years.17 In such cases, records will be sealed without the subject needing to petition the court or take any action.
All court ordered payments or financial obligations must be made in order to be eligible for automatic sealing. Felons are not eligible for record sealing under the Clean Slate Law, nor are certain crimes of sexual or violent nature.
Any criminal records that are not sealed automatically can be petitioned for sealing; the subject of the record can submit to the relevant court a Petition for Order for Limited Access in accordance with Pa. R. Crim. P 791.18,19 This law ensures fewer barriers to employment, education, and safe housing for those who have been previously convicted of a crime in the state of Pennsylvania, by allowing convictions to be withheld from public view.
If the Petition for an Order of Limited Access is approved, the record will only be accessible by criminal justice agencies. In certain cases, state licensing agencies or other authorized departments may be granted access to sealed records–but only if the record is relevant to a specific position such as working with children.
The state charges $132, due when submitting the petition and paid to the county clerk of courts. County courts may charge additional, separate fees, so requesters should verify the total cost with the clerk before submitting a petition.
As for expungement, courts in Pennsylvania often require a copy of the subject's Individual Access and Review certificate after they have completed and turned in the Request for Individual Access & Review (Form SP 4-170).10 A county clerk of court can clarify whether or not this certificate is needed in each particular county and can answer inquiries about Pennsylvania's criminal expungement process.20
Expungement petitions require a non-refundable $155.00 processing fee when filed at any Court of Common Pleas, and an additional $28 filing fee for petitions relating to cases not already filed with the Court of Common Pleas. These payments can be made payable to the clerk of court at the relevant courthouse and should be in the form of cash, check, or money order.
To file for expungement of any criminal record or conviction, individuals can follow these steps:
Complete the Request for Individual Access & Review (Form SP 4-170) provided by the Pennsylvania State Police and wait for a response (requires a $20.00 fee payable to the Commonwealth of Pennsylvania by check or money order and a copy of a valid government-issued I.D.)10
Once a criminal record report is granted, contact the clerk of courts in the jurisdiction where the arrest was made or the case was heard to ask about the county-specific expungement fees and requirements
Obtain and fill out a county-specific Petition for Expungement (These forms vary from county to county; for example, a County of Philadelphia Petition for Expungement cannot be filed in any other county, so ensure that the the form is appropriate for the county)21
File all necessary documents, forms, and the petition with the Clerk of the Court of Common Pleas and pay the $155 filing fee (more if the county requires additional payment)
If a judge signs a court order for expungement, the clerk of courts will send it to the Pennsylvania State Police and the record will be completely expunged (erased). Felonies and some serious misdemeanors are ineligible for expungement.
In Pennsylvania, juvenile criminal record expungement is allowed if the charges were dismissed or resulted in a non-conviction, or if it has been 6 months since supervision without any new or pending charges.22 Though juvenile Pennsylvania criminal records are automatically sealed, in cases that do not fall under the Clean Slate Law, offenders will still have to petition the court for expungement if they would like the record erased.
How To Find an Inmate in a Pennsylvania State Penitentiary or Federal Prison
Pennsylvania does not have a specific felony registry, but there are resources available to the public for finding both state and federal inmates. Usually more violent offenders are held in state prisons while incarcerated individuals accused or convicted of federal crimes like drug smuggling, treason, or perjury are held in federal correctional facilities.
The Pennsylvania Department of Corrections (DOC) manages operations of 23 state correctional facilities, 40 contract facilities, 14 community correction centers, one training academy, and one boot camp.12 In all, the DOC oversees an average of 36,000 state inmates.
Any of these inmates can be found via the Pennsylvania DOC Inmate & Parolee Locator by selecting the "inmate" option (rather than parolee) and searching by name, location, inmate number, date of birth or committing county.13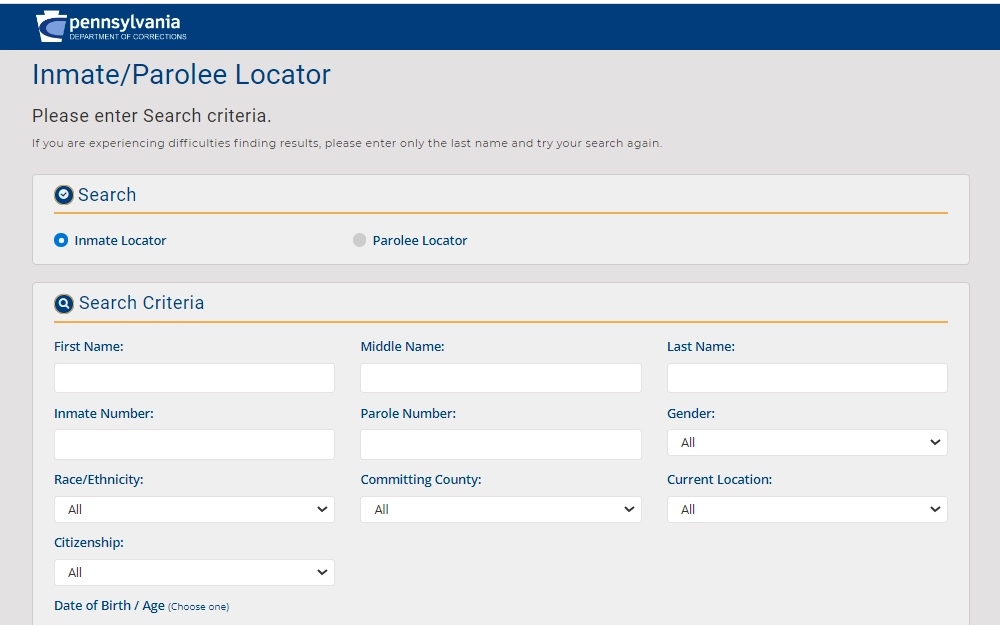 After search criteria has been entered, interested parties can conduct a search and review the inmate profiles displayed. By clicking on an inmate name, users of this service can view each DOC inmate's details, including:
Age
Date of Birth
Conviction Details
Current Facility
Gender
Height
Inmate Number
Mugshot
Names & Known Aliases
Parole Number
Physical Descriptors
Race/Ethnicity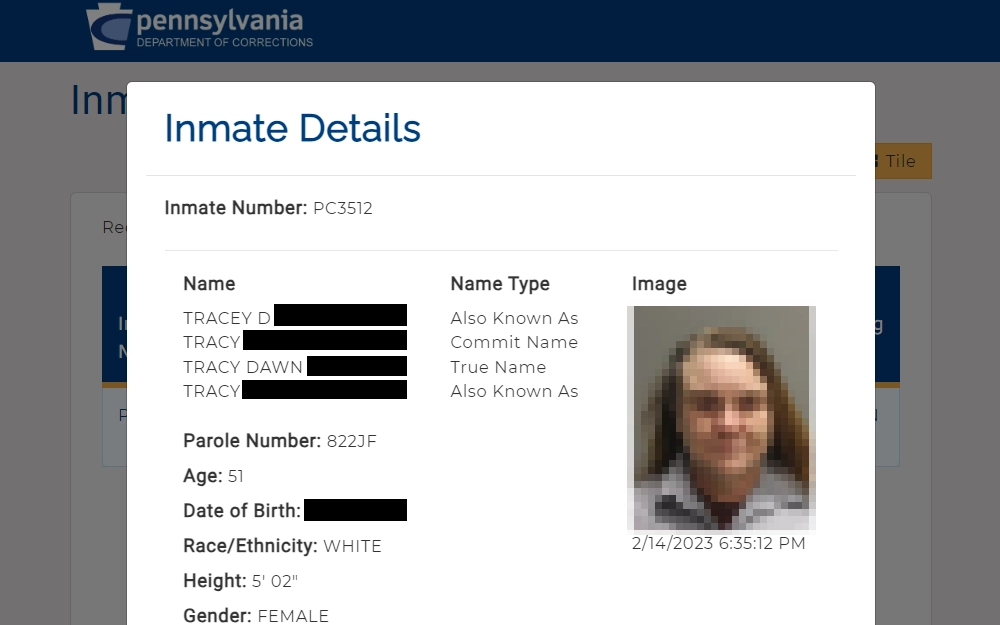 Federal prisoners can be found via the Federal Bureau of Prisons' BOP inmate locator tool, which can be searched for by either BOP inmate number or name.16 Inmates under jurisdiction of the BOP can be contacted by email, phone, or postal mail in accordance with the BOP communications guidelines.23
How To Check If Someone Has a Warrant Out for Their Arrest in Pennsylvania (PA)
Residents of Pennsylvania can conveniently check if they have a warrant out for their arrest through several methods at the local and state levels.
Locally, warrant information may be obtained by contacting the relevant sheriff's office or police department or, occasionally, even by checking the county website for an online warrant feature.
At the state level, concerned individuals can check for a warrant via the Pennsylvania State Police by either a) filling out a PSP Criminal History Request Form (SP 4-164) and mailing it to the Pennsylvania State Police Central Repository at 1800 Elmerton Avenue, Harrisburg, PA 17110-9758 or b) opting for the online option called PATCH.9,8 Each of these options cost the requester $22.
The Unified Judicial System of Pennsylvania provides another option for a statewide warrant check.24 The Administrative Office of Pennsylvania Courts (AOPC) requires users of this service to create an AOPC account to search for warrants initiated by the Magisterial District Judge System (MDJS) or the Common Pleas Criminal Court Case Management System (CPCMS).25 The warrant list shown after creating an account will include all active warrants as well as inactive warrants less than a year old.
Federal warrants issued by the U.S. Marshals are hosted in their WIN system, but this database is inaccessible to the public so the options above are best.
A Summary of Pennsylvania Background Checks
Background checks are used for a vast array of purposes, including employment, purchasing firearms, housing, licensure, and security clearance.
Many employers use background checks before hiring employees to assess past employment, education, and other personal details but any background checks performed for professional purposes must abide by all applicable state and federal laws. Professional checks can only be processed with permission from the subject being investigated.
On the other hand, background checks done for personal reasons do not have to adhere to these regulations, as long as the information gained from the background check is not abused or used to harm the subject of the check. These background checks completed for purposes of a personal nature do not necessitate consent from the subject.
The two primary types of background checks available in Pennsylvania are considered "Level 1" and "Level 2" checks.
Level 1 background checks are name-based searches that assess local records (often on a county or state level) for employment and criminal records. These can be performed through the PSP for $22 either online via PATCH or by completing and submitting a Criminal History Request Form (SP 4-164) and mailing it to:8,9
Pennsylvania State Police Central Repository – RCPU
1800 Elmerton Avenue
Harrisburg, PA 17110-9758
Background checks obtained through the PSP will not show any information from other agencies; only records held by the PSP will be shown.
These Level 1 checks can also be performed by contacting local courts, police departments, or sheriff's offices. Third party services may also prove helpful and convenient to interested parties, as they have expertise on this topic and can quickly search several record repositories for a small fee. However, information garnered through third party searches may be incomplete.
Level 2 background checks are conducted by submitting the subject's fingerprints to the Federal Bureau of Investigations (FBI) and show much more of the subject's historical information. This information can include everything from the individual's marital status, professional certifications and criminal history to their prior places of residence, employment, and education.
A Level 2 check is far more in depth and comprehensive than a Level 1 and much more accurate as it relies on a fingerprint match rather than a simple name search. Level 2 checks check nationwide data through the FBI rather than local, so it provides broader results. These types of checks are often utilized for the healthcare industry as well as for jobs involving contact with children or the elderly.
Pennsylvania IdentoGO provides Level 2 checks managed by the Pennsylvania Department of Human Services (DHS) and certified through the FBI.26,27 IdentoGO users must pre-register on the website, and then can either set a fingerprinting appointment or simply walk into any of the state's IdentoGO Fingerprinting Locations during hours of operation.28
A payment of $23.85 will be due upon arrival at the fingerprinting location, payable by business check, credit/debit card, or money order. A valid form of identification must also be shown at the appointment. Options for identification proof include a state issued driver's license, passport, military I.D., U.S. visa, green card, or several other forms listed on the IdentoGO site.
Any questions about Level 2 background checks can be directed to the FBI at +1(877)371-5422.
Any individual, agency or other entity completing background checks for professional purposes must ensure compliance with all laws, namely the Fair Credit Reporting Act (FCRA) and the laws set forth through the Equal Employment Opportunity Commission (EEOC); these laws protect against discrimination of the subject of the background check.29,30
How To Search the Pennsylvania Sex Offender Registry, the Sexually Violent Predators (SVP) & the Sexually Violent Delinquent Child (SVDC)
Individuals convicted of sex crimes are constantly tracked and their whereabouts consistently updated, accessible by members of the public for safety purposes. The Pennsylvania Sex Offender Registry offers statewide offender searches by city, county, zip code, municipality, offender name or geographic radius.31
Simply click the type of search or search criteria you prefer. Furthermore, PA also has a Sexually Violent Predators (SVP) or Sexually Violent Delinquent Child (SVDC) registry which shows adults and minors who've been convicted of a violent sexual crime.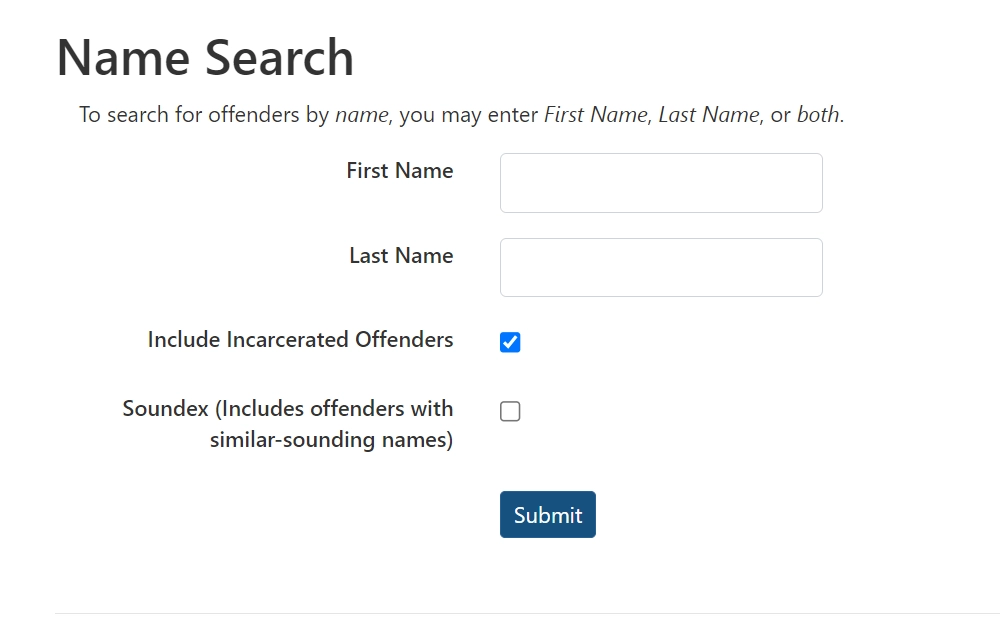 Once search criteria has been entered and the online search performed, a list of results will be shown and the individual conducting the search can click on any offender to view their information and relevant photo from the registry's mugshot database.
Details included on sex offender profiles typically include:
Category of Offense
Current Offender Status
Employment Addresses
First & Last Name
Known Aliases
Mugshot
Residential Addresses
Year of Birth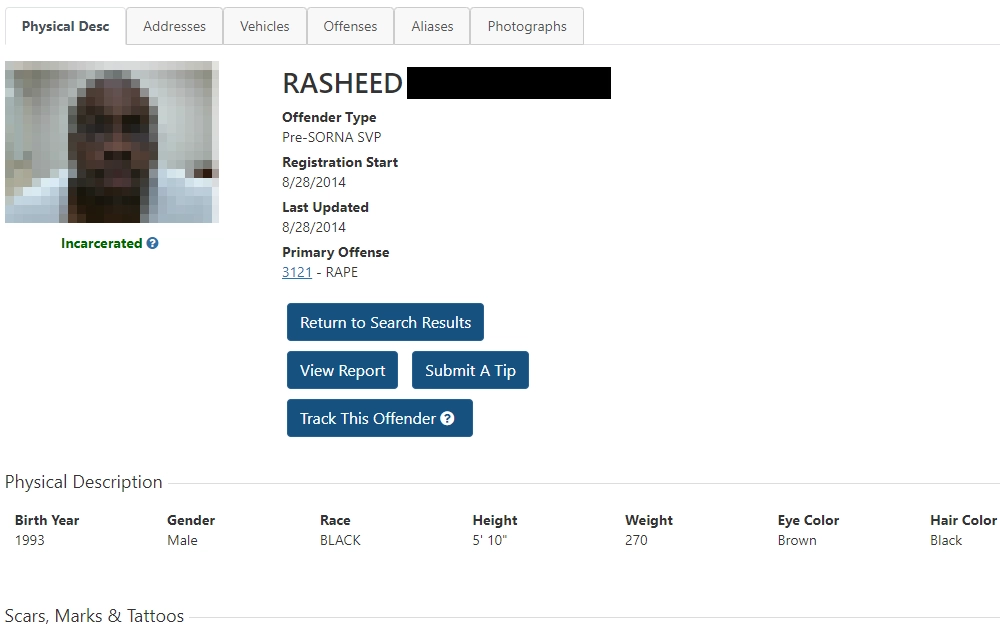 The National Sex Offender Public Website (NSOPW) offers a much broader nationwide search tool for registered offenders. Searches can be conducted by the offender's name or location, with a specified radius input.32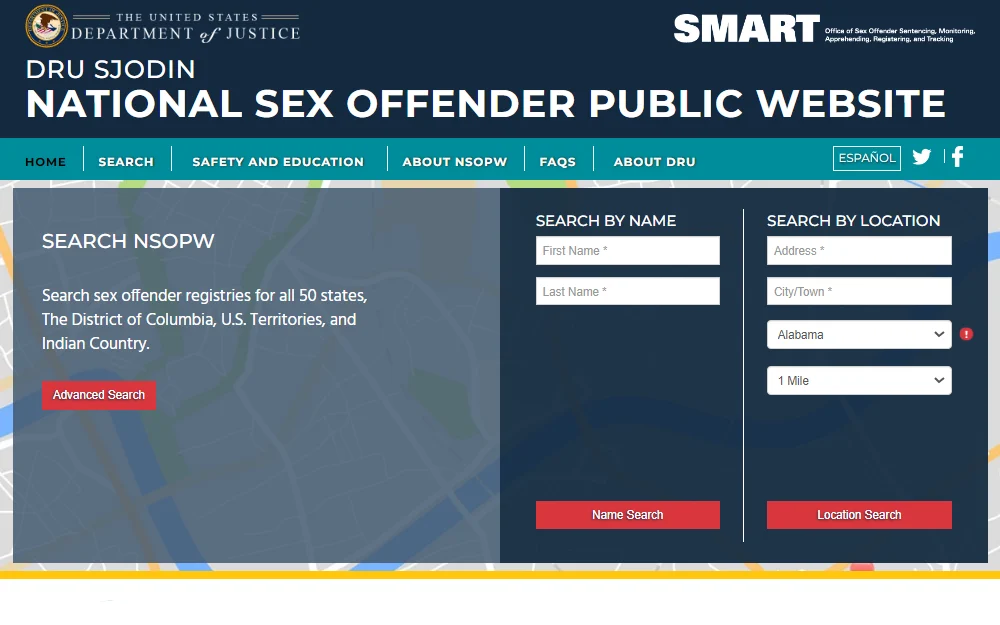 Your Rights Regarding the Use of Criminal Records & Arrest Records Under Pennsylvania Laws
Any employer, licensing agency, or other entity performing background checks or viewing criminal records for professional purposes must adhere to all laws regarding arrest records and criminal records, as summarized below.
The federal Freedom of Information Act grants any and all members of the public the right to access most public records and documents of federal agencies, unless lawfully withheld or exempt from public viewing.2 The state of Pennsylvania also enacted a Right to Know Law, which essentially outlines state-level FOIA regulations.1
18 Pa C.S.A. Statute 9125 (the state's "ban the box" law) prohibits employers from using any criminal history information to influence whether or not they hire an applicant, unless the information disclosed within the criminal record pertains to the job responsibilities.33
his statute also states that, in cases where potential employers choose not to hire a candidate based on their criminal record, the employer must explain in writing exactly what hindered the applicant's suitability for the position.
Federal and state laws overseen by the Equal Employment Opportunity Commission must also be followed by all potential employers when conducting background checks, making hiring decisions, or referencing applicant or employee criminal records.30
Expungements in Pennsylvania must abide by all laws laid out in 18 Pa C.S.A. Statute 9122, such as non-conviction and acquittal information on criminal records being erased and made inaccessible by the public and potential employers.34
Individuals performing personal background checks or viewing their own arrest or criminal records are not required to abide by these laws and can access criminal history information without the subject's consent or even stating a purpose–as long as the information accessed is not used to harass, stalk, or commit a hate crime.
The Fair Credit Reporting Act (FCRA) protects consumer information such as that compiled in background checks, and ensures fair, prompt, and accurate reporting.29
To wrap things up, Pennsylvania arrest records can be accessed or obtained through the relevant county's police department or sheriff's office.
And any member of the public may also request a copy of their own or someone else's Pennsylvania criminal records through the local clerk of courts, the applicable Court of Common Pleas, the Pennsylvania State Police (PSP), local police or sheriff's departments, or even through helpful third party people finder services.
Frequently Asked Questions
How Can I Find Out What Someone Was Arrested for in Pennsylvania?
To check what a certain individual was arrested for in Pennsylvania, the local sheriff's office or police department should be called or visited. Inquirers would ideally know approximately when and where the arrestee was detained and can direct their questions to the arresting agency if an online search tool is not available.
The Unified Judicial System of Pennsylvania also offers a statewide warrant check.
Which Agencies or Courts Hold Criminal Records in Pennsylvania?
Pennsylvania's main criminal record repositories are the Judiciary's Courts of Common Pleas in each of the state's 60 judicial districts (loosely aligned with counties) and the Pennsylvania State Police (PSP). However, criminal records can also be accessed through each county's Clerk of Courts, local police or sheriff department, or third party search services.
1State Government of Pennsylvania. (2008). P.L. 6, No. 3 Right to Know Law. Open Records. Retrieved May 4, 2023, from <https://www.openrecords.pa.gov/Documents/RTKL/PA_Right-To-Know_Law.pdf?pdft=20220418>
2The United States Department of Justice. (2016). THE FREEDOM OF INFORMATION ACT, 5 U.S.C. § 552. justice.gov. Retrieved May 4, 2023, from <https://www.justice.gov/oip/freedom-information-act-5-usc-552>
3Unified Judicial System of Pennsylvania. (2023). Clerks of Courts. pacourts.us. Retrieved May 5, 2023, from <https://www.pacourts.us/courts/courts-of-common-pleas/clerks-of-courts>
4The Unified Judicial System of Pennsylvania. (2023). Public Records. pacourts.us. Retrieved May 15, 2023, from <https://www.pacourts.us/public-records>
5The Unified Judicial System of Pennsylvania. (2023). Pennsylvania Courts of Common Pleas. pacourts.us. Retrieved May 5, 2023, from <https://www.pacourts.us/courts/courts-of-common-pleas>
6Unified Judicial System of Pennsylvania. (2023). Philadelphia County Court of Common Pleas. pacourts.us. Retrieved May 5, 2023, from <https://www.pacourts.us/courts/courts-of-common-pleas/individual-county-courts/philadelphia-courts>
7Pennsylvania State Police. (2023). Pennsylvania State Police (PSP). psp.pa.gov. Retrieved May 4, 2023, from <https://www.psp.pa.gov/contact/Pages/default.aspx>
8Pennsylvania Government. (2023). Pennsylvania Access To Criminal History (PATCH). pa.gov. Retrieved May 4, 2023, from <https://epatch.pa.gov/home>
9Pennsylvania State Police. (2017, December). PSP REQUEST FOR CRIMINAL RECORD CHECK. pa.gov. Retrieved May 4, 2023, from <https://www.psp.pa.gov/Documents/CrimHist/SP4-164.pdf>
10Pennsylvania State Police. (2017, December). REQUEST FOR INDIVIDUAL ACCESS AND REVIEW SP 4-170. pa.gov. Retrieved May 5, 2023, from <https://www.psp.pa.gov/Documents/CrimHist/SP4-170.pdf>
11Public Access to Court Electronic Records. (2023). PACER. uscourts.gov. Retrieved May 5, 2023, from <https://pacer.uscourts.gov/register-account>
12Pennsylvania Department of Corrections. (2023). PA DOC. pa.gov. Retrieved May 4, 2023, from <https://www.cor.pa.gov/About%20Us/ContactUsHotlinesandRight-To-Know/Pages/Contact.aspx>
13Pennsylvania Department of Corrections. (2023). Inmate/Parolee Locator. pa.gov. Retrieved May 4, 2023, from <https://inmatelocator.cor.pa.gov/#/>
14Pennsylvania Government. (2023). Pennsylvania Parole Board. pa.gov. Retrieved May 4, 2023, from <https://www.parole.pa.gov/ContactUs/Pages/default.aspx>
15Pennsylvania Department of Corrections. (2023). County Probation and Parole. pa.gov. Retrieved May 4, 2023, from <https://www.cor.pa.gov/parole-supervision/Pages/County-Probation-and-Parole.aspx>
16Federal Bureau of Prisons. (2023). BOP inmate locator. bop.gov. Retrieved May 6, 2023, from <https://www.bop.gov/inmateloc/>
17Pennsylvania General Assembly. (2018, June 28). 2018 Act 56 Clean Slate Law [Web]. pa.us. Retrieved May 6, 2023, from <https://www.legis.state.pa.us/cfdocs/legis/li/uconsCheck.cfm?yr=2018&sessInd=0&act=56>
18Pennsylvania Courts. (2020, December 28). Petition for Order for Limited Access Pursuant to Pa.R.Crim.P. 791 [Web]. pa.courts.us. Retrieved May 4, 2023, from <https://www.pacourts.us/Storage/media/pdfs/20210515/215125-file-5632.pdf>
19Pennsylvania Criminal Code Rule 791. (2016, November 14). Pa. R. Crim. P. 791 [Web]. PA. Retrieved May 6, 2023, from <https://www.pacodeandbulletin.gov/secure/pacode/data/234/chapter7/s791.html>
20Pennsylvania State Police. (2023). Criminal Expungement Process. pa.gov. Retrieved May 4, 2023, from <https://www.psp.pa.gov/Pages/Criminal-Expungement-Process.aspx>
21County of Philadelphia 1st Judicial District. (2023). Philadelphia Petition for Expungement Pursuant to Pa.R.Crim.P. 790 [Web]. Phila.gov. Retrieved May 6, 2023, from <https://www.courts.phila.gov/pdf/forms/criminal/expungement-790.pdf>
22Pennsylvania Juvenile Justice. (2008). Juvenile Delinquency Records Handbook & Expungement Guide [juvenile criminal record expungement] [Web]. pa.gov. Retrieved May 4, 2023, from <https://www.jcjc.pa.gov/Publications/Documents/Juvenile%20Delinquency%20Records%20Handbook%20and%20Expungement%20Guide.pdf>
23Federal Bureau of Prisons. (2023). BOP inmate communications. bop.gov. Retrieved May 6, 2023, from <https://www.bop.gov/inmates/communications.jsp#phone>
24Unified Judicial System of Pennsylvania. (2023). Unified Judicial System of Pennsylvania. pacourts.us. Retrieved May 6, 2023, from <https://www.pacourts.us>
25Unified Judicial Court System of Pennsylvania. (2023). AOPC login. pacourts.us. Retrieved May 6, 2023, from <https://ujsportal.pacourts.us/Identity/Account/Login?ReturnUrl=%2FIdentity%2Fconnect%2Fauthorize%2Fcallback%3Fclient_id%3Dujsportal2%26redirect_uri%3Dhttps%253A%252F%252Fujsportal.pacourts.us%252Fsignin-oidc%26response_type%3Dcode%26scope%3Dopenid%2520prof>
26IDEMIA. (2023). IdentoGO. identogo.com. Retrieved May 4, 2023, from <https://www.identogo.com/locations/pennsylvania>
27Government of Pennsylvania. (2023). Pennsylvania Department of Human Services (DHS). pa.gov. Retrieved May 6, 2023, from <https://www.dhs.pa.gov/contact/Pages/default.aspx>
28IDEMIA. (2023). IdentoGO fingerprinting sites. IdentoGO. Retrieved May 6, 2023, from <https://www.identogo.com/locations>
29Federal Trade Commission. (2023, May). Fair Credit Reporting Act. ftc.gov. Retrieved May 4, 2023, from <https://www.ftc.gov/legal-library/browse/statutes/fair-credit-reporting-act>
30Pennsylvania Office of Administration. (2003). Equal Employment Opportunity. EEOC. Retrieved July 6, 2023, from <https://www.oa.pa.gov/Programs/eeo/Pages/default.aspx>
31Pennsylvania Megan's Law. (2023). Pennsylvania Sex Offender Registry. Retrieved May 4, 2023, from <https://www.meganslaw.psp.pa.gov/Home/TermsAndConditions>
32United States Department of Justice. (2023). National Sex Offender Public Website. NSOPW. Retrieved May 4, 2023, from <https://www.nsopw.gov>
33Pennsylvania State Legislature. (n.d.). § 9125. Use of records for employment. [Web]. Pennsylvania. Retrieved May 4, 2023, from <https://www.legis.state.pa.us/WU01/LI/LI/CT/HTM/18/00.091.025.000..HTM>
34Pennsylvania State Legislature. (2020). § 9122. Expungement. [Pennsylvania State Statutes] [Web]. Pennsylvania Judiciary. Retrieved May 4, 2023, from <https://www.legis.state.pa.us/WU01/LI/LI/CT/HTM/18/00.091.022.000..HTM>
35Mercer County. (n.d.). Inmate Search. Mercer County Jail Report. Retrieved June 9, 2023, from <https://www.mercercountypa.gov/jail/jailreport/default.htm>
36Pennsylvania Government. (n.d.). Requester Information. Pennsylvania Access To Criminal History. Retrieved July 5, 2023, from <https://epatch.pa.gov/TandCRce/RequestorDetails/RequestorInfo>
37Pennsylvania State Police. (n.d.). Crime Overview. The Dashboard. Retrieved June 12, 2023, from <https://reports.py.pa.gov/psp/powerbiui>
38Pennsylvania Government. (n.d.). Case Search Registration. Public Access to Court Electronic Records. Retrieved June 9, 2023, from <https://pacer.psc.uscourts.gov/pscof/registration.jsf>
39Pennsylvania Department of Corrections. (n.d.). Parolee Search Result. Parole Board. Retrieved June 9, 2023, from <https://inmatelocator.cor.pa.gov/#/ParoleeSearchResults>
40Pennsylvania Department of Corrections. (n.d.). Inmate Details. Inmate Locator. Retrieved June 9, 2023, from <https://inmatelocator.cor.pa.gov/#/Result>
41Pennsylvania Governement. (n.d.). Name Search. PA Megan's Law. Retrieved June 9, 2023, from <https://www.meganslaw.psp.pa.gov/Search/NameSearch>
42Search Result. (n.d.). PA Megan's Law. Retrieved June 9, 2023, from <https://www.meganslaw.psp.pa.gov/OffenderDetails/PhysDesc/36220>