When it comes to locating Pennsylvania public records, some people are unsure of where to start. But fortunately, finding free Pennsylvania marriage records and other public information is as easy as clicking a button.
Search databases using free public records search portal, or visit each agency individually and find free divorce records in Pennsylvania or other criminal records.
This guide provides all the steps involved in finding public records in PA.
Pennsylvania Public Record Laws
Due to the Freedom of Information Act (FOIA), Americans can request many types of government records. The Right to Know Law, Pennsylvania's FOIA, permits state residents to inquire about public information, and those possessing such information have five days to respond to requesters.
That said, documents related to accidents and criminal investigative reports are private.1
Whether someone utilizes government sources or private web databases, they need to figure out the appropriate jurisdiction, court, and jail or prison when searching for public records.
Pennsylvania Criminal Records: A Run Down
Rap sheets, a common term for criminal records, typically contain arrest details, any misdemeanors or felonies, and criminal court trials. Potential landlords and employers examine this information to see if someone presents a threat to other tenants or clients. Some people with a mild conviction record can still be hired as a way to receive a second chance.
Do Private Citizens Have Access to Criminal Records in PA?
Because of The Right to Know Law, criminal history details are Pennsylvania public records. Private citizens in this state can access the criminal records of nearly anyone, which is a good way to scrutinize someone they just met. Nevertheless, some criminal history information is sealed and therefore not accessible by the general public.2
How to Search Criminal Records in Pennsylvania Using Public Record Databases
Interested parties can retrieve their own or someone else's criminal record from the PSP (Pennsylvania State Police). It provides a criminal history repository called PATCH (Pennsylvania Access to Criminal History), sometimes called ePatch.
People can obtain criminal information reports online and by mail:
Online: Once they agree to the website's terms and conditions, site visitors can choose "Individual Request" or "Company Request."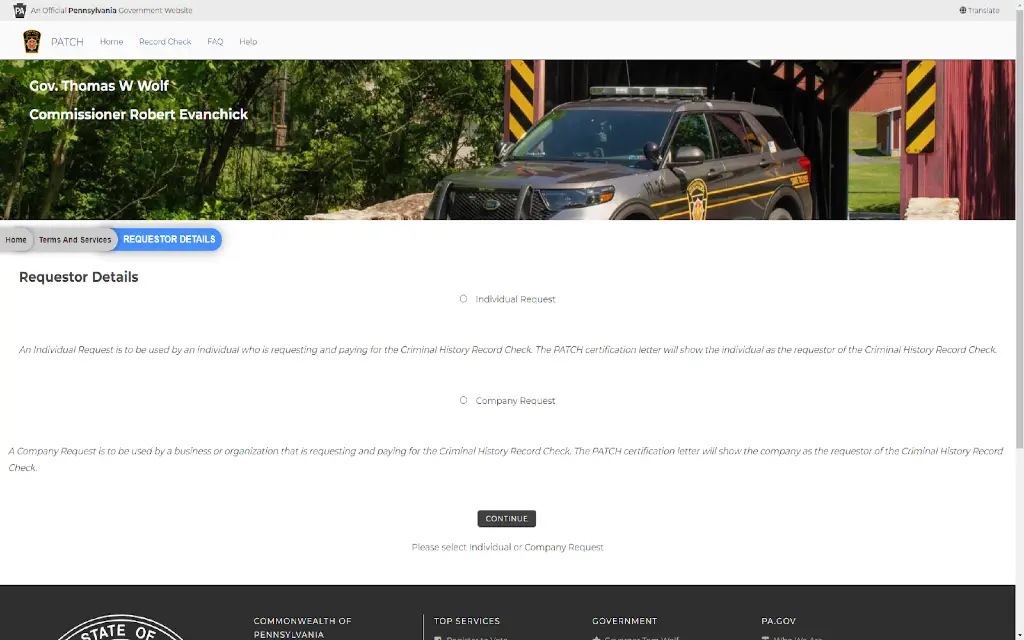 Then, they need to enter information like their reason for a record request, name, address, and email. Afterward, patrons pay their $22.00 fee.
PSP- RCPU
1800 Elmerton Ave.
Harrisburg PA 17110
They also have to send their $22.00 payment in the form of a certified check or money order. (Customers can get their mail requests notarized for $5.00 more.)
Those obtaining criminal records for volunteer purposes are required to submit a volunteer criminal history form or request records via ePATCH. Volunteer requests are free.
Anyone wanting to retrieve records held in the PSP Repository needs to turn in the Individual Access and Review form. The fee for this request is $20.00.
Later in this guide, readers will learn how to get criminal history records through other means like offender searches, court databases, and background checks although our guide on Pennsylvania criminal and arrest record searches provides even further details, record custodians, a list of county inmate rosters, and much more.
Who Can See a Juvenile's Criminal History in Pennsylvania?
Who can and cannot view a juvenile's criminal record is based on the severity of the crime the minor committed. For example, if their crime was of petty manner, then only police officers and court personnel can see them.
But, if they were convicted of serious offenses like robbery or murder, then they're considered Pennsylvania public records.3
Best Way to See if You Have a Warrant in Pennsylvania (Free Pennsylvania Warrant Search)
A warrant, whether it's an arrest warrant or a bench warrant, is something no one should take lightly. If a person doesn't check it out, they may get an unlikely (and unpleasant) visit from law enforcement. Residents have a few good warrant search techniques at their fingertips to protect themselves from any surprise encounters with the police.
They can begin by entering "PA warrant search" into their favorite search engine to receive links to several sheriff's offices, court, and police department sites. For instance, the Northampton County Bench Warrants page features people who possess domestic bench warrants.
The  Pennsylvania Judiciary offers a statewide warrant tool that allows others to search for active and inactive warrants derived from the MDJS (Magisterial District Judge System) and the CPCMS (Common Pleas Criminal Court Case Management System.)
Individuals can also visit their local law enforcement or court in person to inquire about warrants.
Use the PA Sex Offender Registry to Check Streets Nearby
Those who need to scan their neighborhood for any registered sex offenders can use the PSP Megan's Law website. It has an offender search tool that lets users research a wide array of categories. To extrapolate, Pennsylvania residents can find sex offenders by:
Name
Mile Radius
Zip Code
City
Municipality
County
They can also search for offenders who are non-compliant, transient, or sexually violent predators. People can sign up for PSP's Electronic Notification System if they wish. Once they register their email, individuals get alerts about an offender's location when they move to another residence or change jobs.
Interested parties can use the Dru Sjodin National Sex Offender Public Website to conduct national sex offender searches. It has English and Spanish language options, plus users can search by name or location.
Pennsylvania Background Checks Explained
There are many types of background checks someone can go through. The most common one is employment-related, particularly if the job involves working with bank information or vulnerable populations. Background checks are also mandatory for adoptions, firearm ownership, and home renting.  Details that mainly show up on a background check include a person's criminal history, names of former employers, and credit history.
People can use the aforementioned ePATCH website to retrieve background checks. Those who plan to work with or adopt children are required to get a child abuse history clearance about every five years. It's free for volunteers, but it costs $13.00 for adoptive parents and employees.
This can be done online or by mail just like ePATCH:
Childline and Abuse Reg.
Pennsylvania DHS
P.O. Box 8170
Harrisburg PA 17105
In addition, all childcare employees and adopters (and some volunteers) need to be fingerprinted. The price for this service is $22.60 for volunteers and $23.85 for adoptive parents and employees. They can schedule a fingerprinting appointment by calling IdentoGO at (844)-321-2101 or via its website.
Out-of-state residents involved in the childcare industry must adhere to out-of-state clearance guidelines.
Anyone interested in obtaining or selling firearms needs to contact their county sheriff to apply for or renew their license. They can also request an application/sale form from the PSP.
Pennsylvania Court Records Requests
Court records in Pennsylvania mainly consist of pleadings documents, trial dates, and court dockets. Some court proceedings are Pennsylvania public records. But, the general public is not allowed access to hearings associated with mental health, divorce, and situations that can negatively impact children and teenagers.4
The Pennsylvania Judicial System is home to five courts including the Minor Courts, the Courts of Common Pleas, the Commonwealth Court, the Superior Court, and the Supreme Court:
The Minor Courts are made up of the Magisterial District and Philadelphia Municipal Court. handle preliminary arraignments and hearings. They're also responsible for setting bail and determining if certain criminal cases are severe enough to be transferred to the Courts of Common Pleas.
The Courts of Common Pleas deal with retrials from the Minor Courts as well as cases involving children and families.
The Commonwealth Court is an intermediate appellate court that works with appeals from Common Pleas and state agency trials. Additionally, it handles civil actions brought to and against it.
The Superior Court is another intermediate appellate court that presides over appeals from the Common Pleas civil and criminal trials. It also works with children/family appeal cases.
The Supreme Court is located in Harrisburg, Pennsylvania. It listens to direct appeals from the lower courts as well as Commonwealth and Superior Court discretionary appeals.
Steps to Look Up Court Records in Pennsylvania (Find Free Divorce Records in Pennsylvania)
Pennsylvania residents can retrieve court records through several means. For example, the general public can look up some cases from the Philadelphia Municipal Court, Appellate Courts, Magisterial District Courts, and the Criminal Courts of Common Pleas through the Public Web Docket Sheets tool.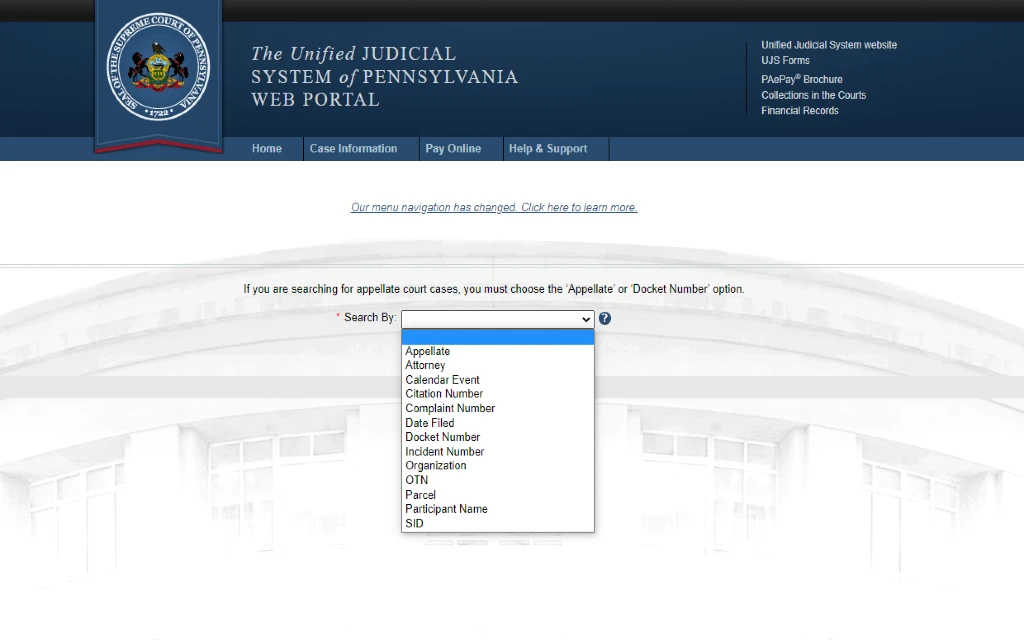 The Secure Web Docket Sheets feature is similar to the Public Web version except it requires a login as its name implies. Also, it's not open to the general public.
There's even an online record search tool for police officers called Disposition Lookup. It allows them to search case dispositions under their names.
Interested parties can research and read court opinions from the Commonwealth Court, Superior Court, and Supreme Court.
People who need assistance obtaining public (and any private) records can reach out to the appropriate court office on this Contact Us page. They can also go to the Courts of Common Pleas page and choose their local court from the list or the map.
How to Perform a Bankruptcy Search for Pennsylvania
Anyone wanting to locate bankruptcy records would be glad to know that Pennsylvania has three bankruptcy courts:
Though people can request records from any of the six locations in person, some may decide to skip the trip and do it from home instead. McVCIS (Multi-Court Voice Case Information System) is a phone system that lets callers receive case information via voice prompts. The number is (866)-222-8029 (respective extensions 713, 716, 714).
Individuals can also use PACER (Public Access to Court Electronic Records). Site visitors can buy digital documents at $0.10/page (in HTML or PDF format) or audio files ($2.40 each).
Pennsylvania Inmate Records – A Synopsis
Currently, the jail population in Pennsylvania is over 31,790. There are more than 45,700 inmates in the state's prison network.5
Pennsylvania inmate records typically contain birthdates, inmate numbers, and committing counties. Inmate information can assist law enforcement in tracking and apprehending escapees. These details can also help jail or prison employees measure an offender's qualifications for possible parole.
How Do I Find Someone Arrested Recently?
Those wanting to find someone who was arrested can input "PA arrest search" into a search engine and locate a police department or sheriff's office website from the provided results.
The  Lancaster County Prison site is an example of what researchers may come across. It offers a Who's in Jail inmate locator that only requires a first and last name, birthdate, and PIN. There's also a phone number someone can call to find an inmate. (This may come in handy if said inmate happens to be a friend who needs bail money.)
Anyone who was a target of crime can check out the Victim Information & Notification Everyday (VINE) site. In addition to receiving inmate status updates, users are provided resources to help them seek closure.
Best Place to View Pennsylvania Mugshots
Many people know that the Internet's the best place to view mugshots in Pennsylvania since they can conduct research from anywhere through their mobile devices. They can begin by typing "PA mugshots" into their preferred search engine and scan the results for their county's jail or prison website. For instance, the Dauphin County Jail has an inmate lookup tool with two search options: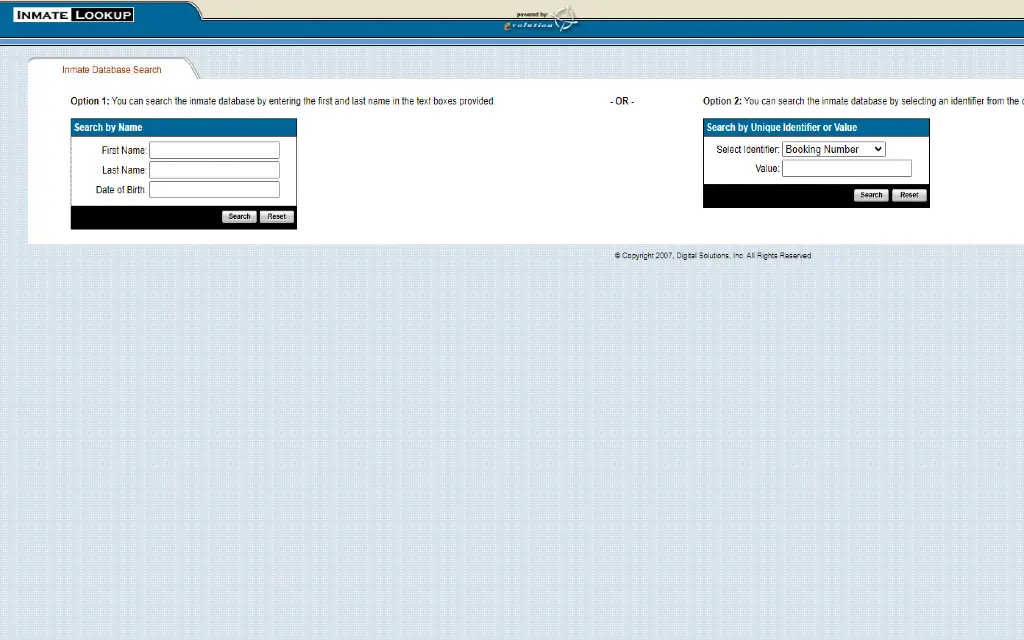 After entering an inmate's number or booking number, the user is directed to a list of inmate names. Clicking on a name brings up an inmate's photo, booking number, county ID, and other related information.
Even though the Internet is a convenient source for mugshots—and nearly everything else for that matter—not everyone has easy access to the Web. If online searches aren't feasible, residents can check the local news channel on television or their city's newspaper.
Find a Prisoner in Pennsylvania
The state's prisons are operated by the Pennsylvania DOC (Department of Corrections). People can find a prisoner through its inmate/parolee locator. They can select "Inmate Locator" or "Parolee Locator" and narrow their search by name, parole number, facility location, and other details. Individuals can also call any correctional institution on this state facility list.
The Federal Bureau of Prisons (BOP) is where individuals can search for federal prisoners. They can use its inmate locator or contact one of the 10 federal prisons in Pennsylvania from its location list.
Prisoner Correspondence
After locating their imprisoned loved ones in the Pennsylvania DOC system, many interested parties want to stay in touch with them, and they can do that by writing letters or emailing them:
Mail: Family and friends can send letters, children's drawings, greeting cards, and photographs that abide by these mail guidelines. They have to be mailed to the following address:
Smart Comm./PA Dept. of Corrections
Inmate Name & No.
P.O. Box 33028
Saint Petersburg FL 33733
Email: ViaPath Technologies is the Pennsylvania DOC's email vendor. Messages between inmates and their loved ones are monitored.
Visiting a Prisoner in Pennsylvania
Prospective visitors can visit prisoners on-site or via video. Before commencing their visit, people need to look over the visitor guide and visiting rules:
On-site Visits: Individuals need to schedule a visit through the Visitation Scheduler System three days before they show up. (Minors share an account with their parent(s) or guardian(s).) Visits last about 60 minutes.
Video Visits: The rules for video visits are the same as on-site visiting procedures. Visitors can log in through iPhone, Android, or desktop/laptop devices.
Sending Money to Pennsylvania Prisoners
Friends and relatives can monetarily support their loved ones by sending funds through prison lobby kiosks and JPay:
Prison Lobby Kiosk: The Pennsylvania DOC collaborates with GTL to provide money kiosks at each of its prisons. These kiosks accept cash and credit cards, and transaction fees are $2.00.
JPay: Users can deposit funds by phone (800-574-5729), through its website, by Google Play/ Apple Store, by walk-in, or by money order. (Money orders require an English or Spanish deposit slip.) Fees are between $1.25 and $4.75 based on the method they choose.
PA Vital Records
Vital records in Pennsylvania consist of birth records, adoption records, divorce records, fetal death records, adoption records, genealogy reports, stillborn records, and marriage records. That said, this covers the following records:
Death records
Birth records
Divorce records
Marriage records
Are PA Vital Records Public Information?
Birth and death records are deemed Pennsylvania public records once they're at least 105 years old. (These vital records have been in existence in this state since 1906.)6,7 Marriage and divorce records can be requested by anyone. But, a person can seal their divorce record to protect their privacy.8
Steps to See if Someone is Married or Divorced in Pennsylvania (Free Pennsylvania Marriage Records)
Anyone curious about a friend's or relative's marital status has to request marriage or divorce records from the courthouse in the county where the event took place.
Additionally, marriage and divorce rates are made public by the U.S. Census Bureau, and the image below shows the percentage of divorced individuals in each Pennsylvania county.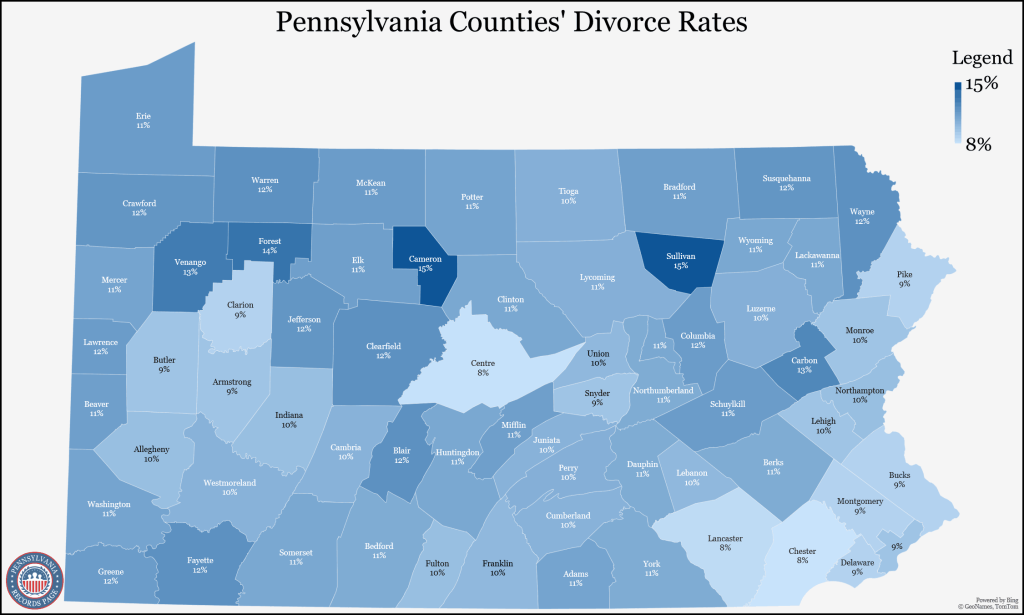 Interested parties can locate their county courthouse through the Orphans' Court Clerks site.
How to Order Replacement Death & Birth Certificates in Pennsylvania
If someone misplaced, stained, or wants to order a replacement birth or death certificate for other reasons, they can buy certified copies through the Pennsylvania DOH (Department of Health), Division of Vital Records.
People have to meet certain requirements before purchasing these records. For one, they need to possess a valid government ID. Also, they have to be an immediate family member, a power of attorney, or a court-order representative. (Customers have to be at least 18 to obtain their birth certificate.)
Birth and death certificates can be ordered in-person, online, and by mail:
In-person: Patrons need to find the public office closest to their homes. Hours of operation differ from location to location.
Online: Individuals can place orders via My Certificates anytime day or night.
There's a $10.00 processing fee for this option.
Pennsylvania DOH
Division of VR
Certificate PU
P.O. Box 1528
New Castle PA 16103
Customers with comments or inquiries about ordering birth or death certificates can call the Pennsylvania DOH, Division of Vital Records (724-656-3100, 844 228-3516) or email them.
People have to know how, where, and when to search government databases. Upon learning the ins and outs of finding Pennsylvania public records, they may see it as an educational and fun experience.
1National Freedom of Information Coalition. (n.d.). Pennsylvania FOIA Laws. Pennsylvania FOIA Laws. 27 June 2022. Web <https://www.nfoic.org/pennsylvania-foia-laws/>
2The Law Dictionary. (n.d.). How to Obtain a Criminal Background Check in Pennsylvania. Legal. 27 June 2022. Web. <https://thelawdictionary.org/article/criminal-background-check-pa/>
3Young Marr &amp; Associates. (n.d.). Can I Get Rid of My Child's Juvenile Record? Can I Get Rid of My Child's Juvenile Record? 28 June 2022. Web. <https://www.youngmarrlaw.com/can-get-rid-childs-juvenile-record/>
4Pennsylvania Freedom of Information Coalition. (2022). Right to Public Access of Court Records. Right to Public Access of Court Records. 28 June 2022. Web. <https://pafoic.org/right-to-public-access-of-court-records/>
5National Institute of Corrections. (2019). Pennsylvania 2019. 2019 National Averages. 28 June 2022. Web. <https://nicic.gov/state-statistics/2019/pennsylvania-2019>
6Pennsylvania Department of Health. (2022). Ordering a Birth Certificate. Birth Certificates. 28 June 2022. Web. <https://www.health.pa.gov/topics/certificates/Pages/Birth-Certificates.aspx>
7Pennsylvania Department of Health. (2022). Ordering a Death Certificate. Death Certificates. 28 June 2022. Web. <https://www.health.pa.gov/topics/certificates/Pages/Death-Certificates.aspx>
8Davis Divorce Law. (2019). Are Pennsylvania Divorce Records Public? Are Pennsylvania Divorce Records Public? 28 June 2022. Web. <https://padivorce.com/are-pennsylvania-divorce-records-public/>
9Commonwealth of Pennsylvania. (2023). Pennsylvania Access To Criminal History (PATCH). Requestor Details. Retrieved June 5, 2023, from <https://epatch.pa.gov/TandCRce/RequestorDetails>
10Administrative Office of Pennsylvania Courts. (2023). Case Search. Retrieved June 5, 2023, from <https://ujsportal.pacourts.us/CaseSearch>
11Dauphin County. (2007). Inmate Database Search. Retrieved June 5, 2023, from <https://www.dauphinc.org:9443/IML>